This is the excellent Vapcell H10 14500 1000mAh 10Abattery (improving over the gold 3A version). Capacity is close to 100% accurate + it has much more capacity than competing 14500 batteries and up to 10A amperage output.
Comes in both flat & button top capacities. This is the button top version
This price is for a two battery set.
Specifications
Model: H10
Typical Capacity: 1000mAh (0.2C discharge)
Min capacity: 900mAh (0.2C discharge)
Nominal voltage: 3.60V
Max Continuous Discharge Current: 10A
End-of-charge voltage: 4.20V
End-of-discharge Voltage: 2.5V
Weight: 24g (Appr)
Internal resistance: 18mΩ (Appr)(AC 1kHz)
Standard Charge: 500mA,CCCV 50mA cut-off
Quick Charge Current: 1500mA
Test Graph: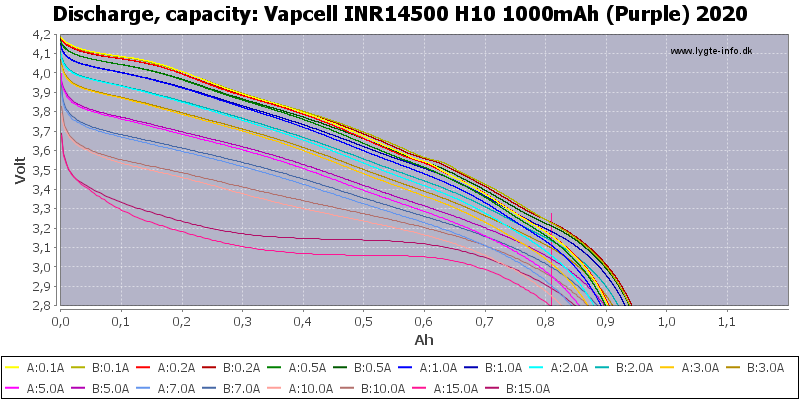 Regarding Exchanges/Warranty
Due to the nature of this consumable product, no returns/exchanges with this product or other replacements are allowed unless the product is DOA
Warranty coverage will be 3 Months Full Warranty (does not cover over-discharge) unless battery has been found to be pushed beyond its stated specs or misused
Warning
CAUTION: when working with Li-ion cells, they are very sensitive to charging characteristics and may explode if mis-handled.

User should have enough knowledge on Li-Ion rechargeable batteries in charging, discharging,and assembly before use.

Put the batteries in fire-proof container

Do not put batteries on wood surface or carpet when charging

Never leave battery un-attended when charging

We are not responsible for damage if there is any modification of the batteries in form, shape,or when made into packs

We are not responsible for any damage caused by misuse or mishandling of these Li-Ion batteries