Want to reach out through the darkness far into the distance without lugging a huge light around? This light is what you want! The D1 has an awesome user interface with insane output, all in a small lightweight package. The most throw you can get for the size and weight!
Even though it's already small, you can make it even smaller with an optional 18350 tube.
Includes a pocket clip.
LED Options:
XP-L HI V2 1A - Cool White
XP-L HI V2 3A - Neutral white
Body Color Options:
The D1 is available in black, grey, and green body colors.
Features:
• CNC machined from aircraft-grade aluminium
• Smooth aluminum reflector
• Anti-reflective coated glass lens
• Unihead construction
• High lumen output and low moon output
• Ramping interface
• Electronic soft touch switch (ALPS)
• Beryllium-Copper springs with 45% IACS superior to stainless steel alloys used for springs
with only 2% IACS.
• Temperature step-down
• Waterproof and dustproof to IP67 standard (up to 1 meter)
• Default 18650 body with optional 18500 or 18350 battery tube
• Dimensions: 105mm(length) * 35mm(head) * 24mm(body)
OTF lumen output at start-up
XP-L HI : 1300lm
Lux : 43000cd
User Interface: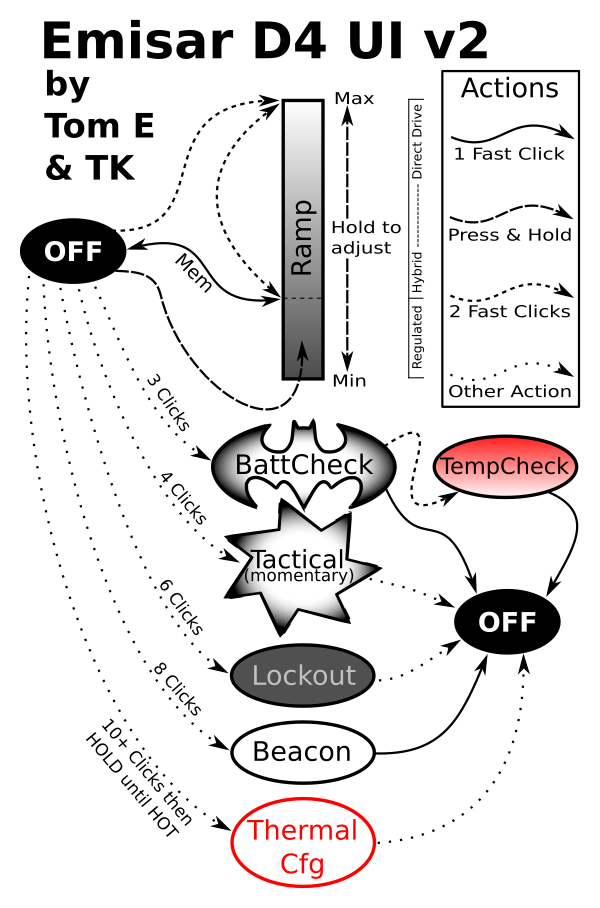 Specifications:
XP-L HI LED mounted on a Copper direct-thermal-path MCPCB

Smooth reflector for an awesome focused beamThermal Protection

Estimated 43000cd peak beam intensity

Estimated 1300 lumens output

Low Battery Protection

Ramping User Interface:This firmware is open source, and can be downloaded here.

One click turns the light on or off.Double click from on or off goes to 100% power.

Holding down the switch button while on ramps the light between the lowest mode and 100% power.

Triple click: battery check

Six Clicks: lock out/on

Dimensions: Weight: 87 grams (18650 tube).

Length w/ Included 18650 Tube: 105mm; Length w/ Optional 18350 Tube: 75mm ;

Head Diameter: 35mm

Tube Diameter: 24mm

Tailcap Diameter: 25.6mm

Battery Required: 1x 18650 Battery (NOT INCLUDED) --- See Recommended List Below

A high-drain 18350 may also be used with this light along with the optional 18350 tube.

Protected batteries are not supported.

Only batteries on the recommended list are guaranteed to work.

Do not insert the battery backwards. There is short-term driver protection, but damage will occur to the battery and flashlight if the battery is left inserted backwards for an extended period of time. If the battery is inserted correctly, the light will give two quick blinks when the battery is connected.