"Always looked for a tactical torch with awesome throw, but in a smaller form factor at an affordable price? The L17 has almost all your prayers answered with its Osram-laser focused optic >800m throw power, decent 1400 lumens brightness, and an included USB rechargeable 18650 3100mAh Battery, you would be very very satisfied" - Fstop Lights
Introducing the Acebeam L17: a long-range tactical flashlight that will dazzle you with its myriad of size, output, and throw. Optimized for day-to-day lighting, outdoor activities, or spontaneous self-defence action, this light is great to have clipped to your side all the time.
One of the greatest perks of the L17 is that it packs a lot of throw into an aluminium body that is less than 6" in length. You're guaranteed a throw of over 800 meters! Great for walking around your property or while out on a nighttime hunt. Plus, all modes are easily accessible through a forward click tactical tail switch including direct access to turbo and strobe modes single-handedly.
Our listing includes an 18650 3100mAh USB Rechargeable Acebeam battery; take note other listings online do not include batteries. Ours do.
The L17 also utilises a silent tactical switch, which will feel different from other tactical lights.
This is the Green LED version with more lumens (2,000) & throw (820 meters) compared to the white version
Main Specs
Brightness Settings:
Ultra-Low: 25 lumens; 1722cd; 83 meters; 58 hours
Low: 75 lumens; 4970cd; 141 meters; 21 hours
Med: 230 lumens; 20449cd; 286 meters; 6 hours 45 minutes
High: 500 lumens; 42642cd; 413 meters; 2 hours 45 minutes
Turbo: 2000 lumens; 168100cd; 820 meters; 1 hour 15 minutes
Strobe: 2000 lumens; 2 hours 30 minutes

Max. output 2000 lumens
Max. runtime: 58 hours
Max. beam distance: 820 meters
Peak beam intensity: 168100cd
Size: 140.5mm (Length) x 40mm (Head Diameter) x 25.4mm (Tube Diameter)
Weight: 150g w/o battery; 199g w/ battery
Packing List: ACEBEAM L17 Tactical Flashlight GREEN version, User Manual, Holster, Lanyard, Rubber Button Cap, Spare O-ring, Removeable Clip, Packing box, Acebeam 18650 3100mAh USB Rechargeable Battery
Other Specs
Powered by 1x18650 Li-ion battery and 2xCR123A batteries are compatibility
Acebeam Micro-USB rechargeable 18650 Li-ion battery (Included)
Pocket tactical flashlight- compact, lightweight and portable convenience
Strobe setting can disorient an attacker or serve as a distress signal
One-handed, one-button for easy and fast operation
Highly efficient constant current circuit design (Non-PWM)
All circuitry contact points are gold-plated, providing better conductivity and superior durability
An intelligent temperature controller is used to adjust brightness and prevent overheating
Lockout mode prevents accidental activation
Carclo TIR Lens: product highly efficient optics with a huge variety of beam shapes
Stainless steel strike bezel design for use in emergency situations
Tail switch for easy and fast operation
Sturdy aerospace-grade aluminum body with military-grade type III hard-anodized finish
Size: 140.5mm (Length) x 40mm (Head Diameter) x 25.4mm (Tube Diameter)
Weight: 150g(5.3oz.) w/o battery; 199g(7oz.) w/ battery
Impact resistance to 1 meter
IP68 waterproof (5 meters submersible)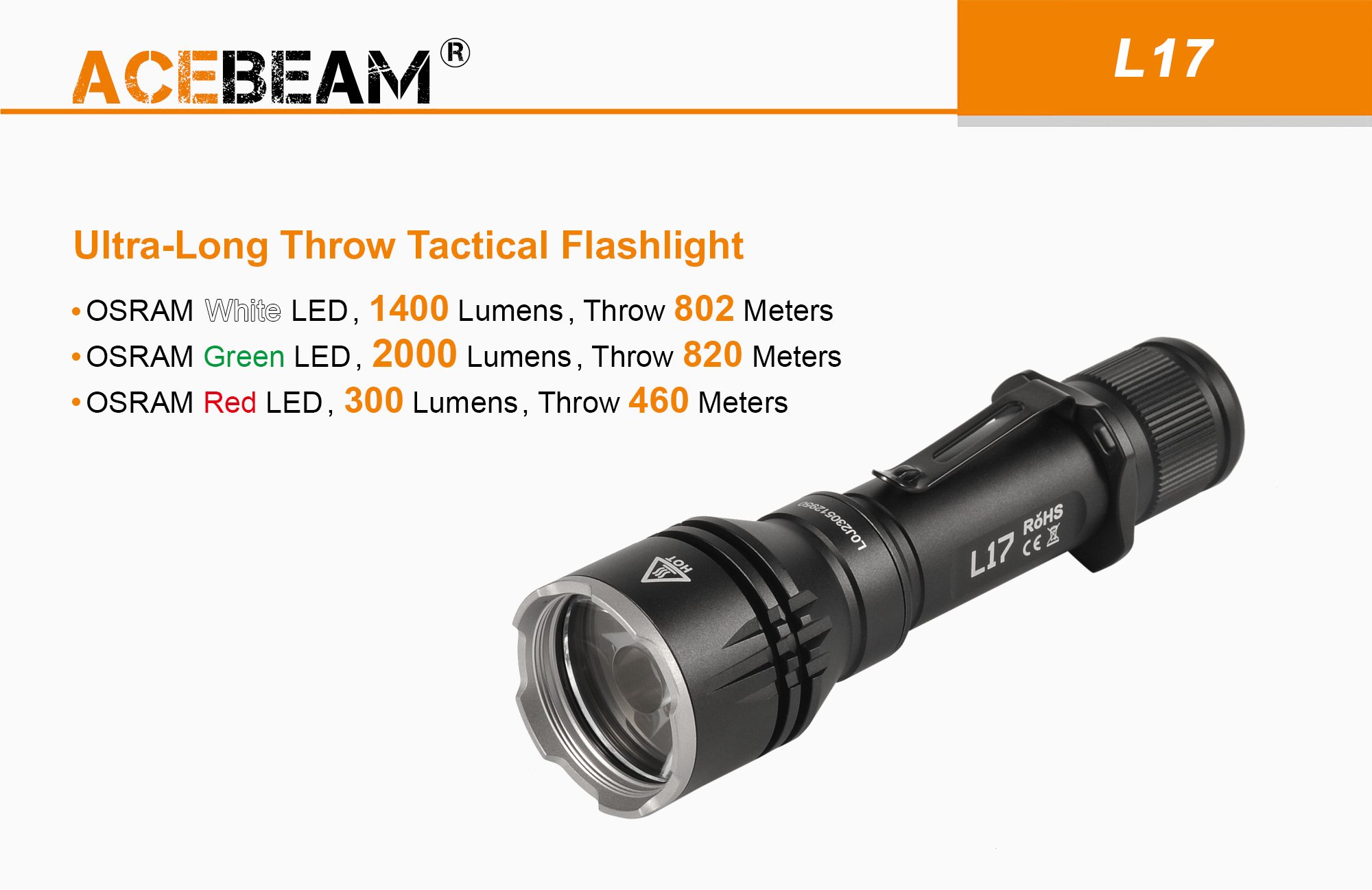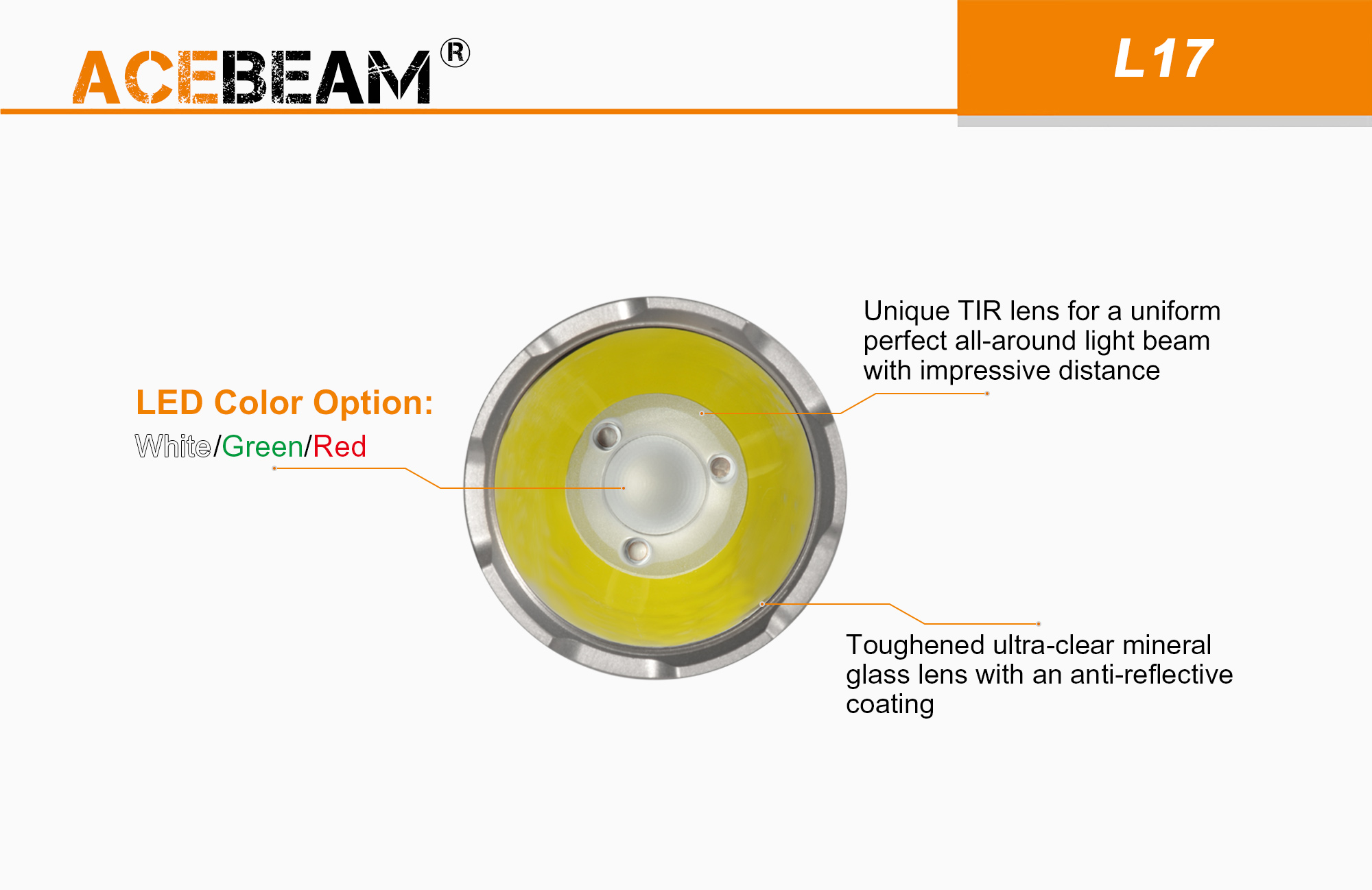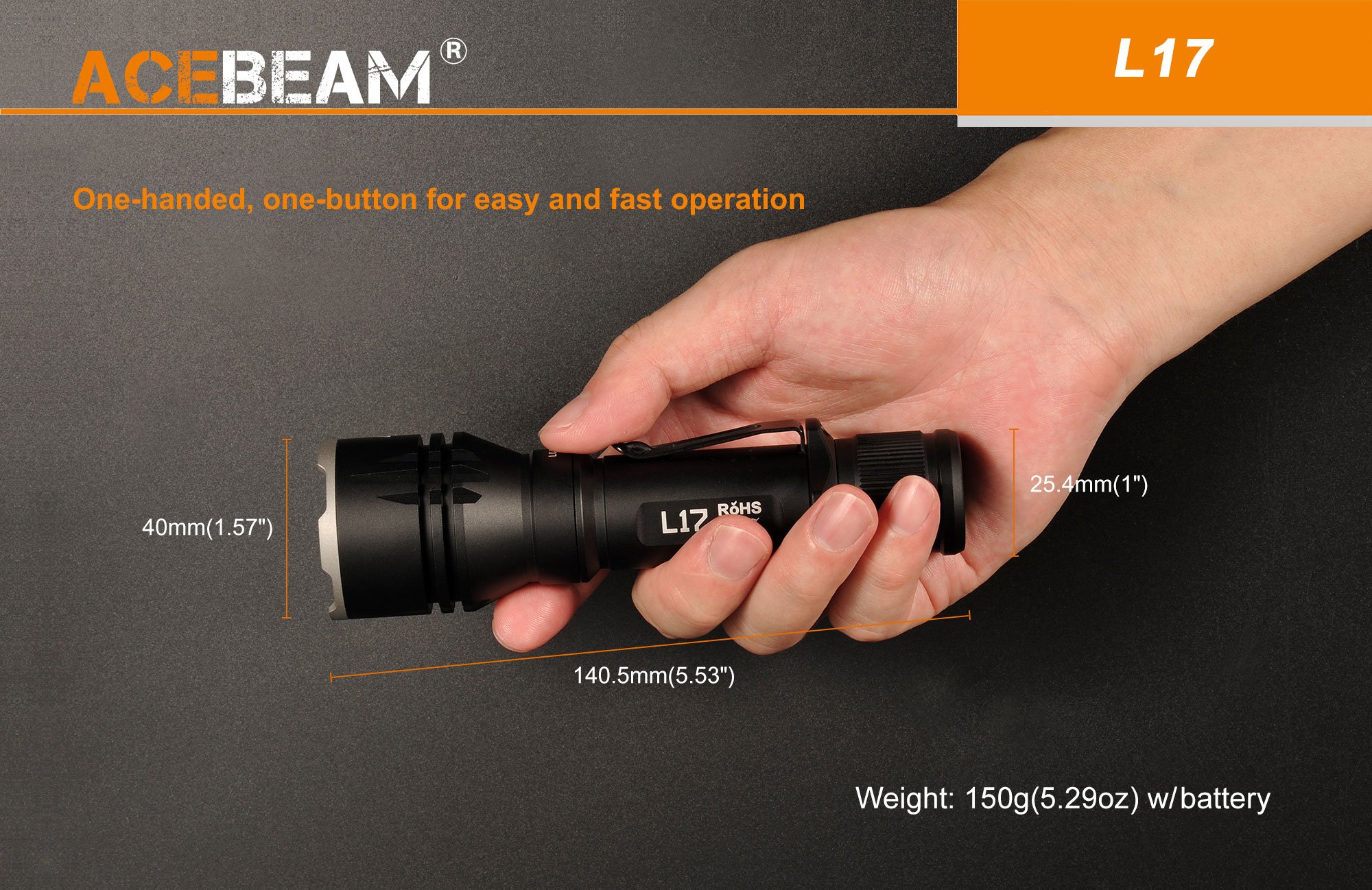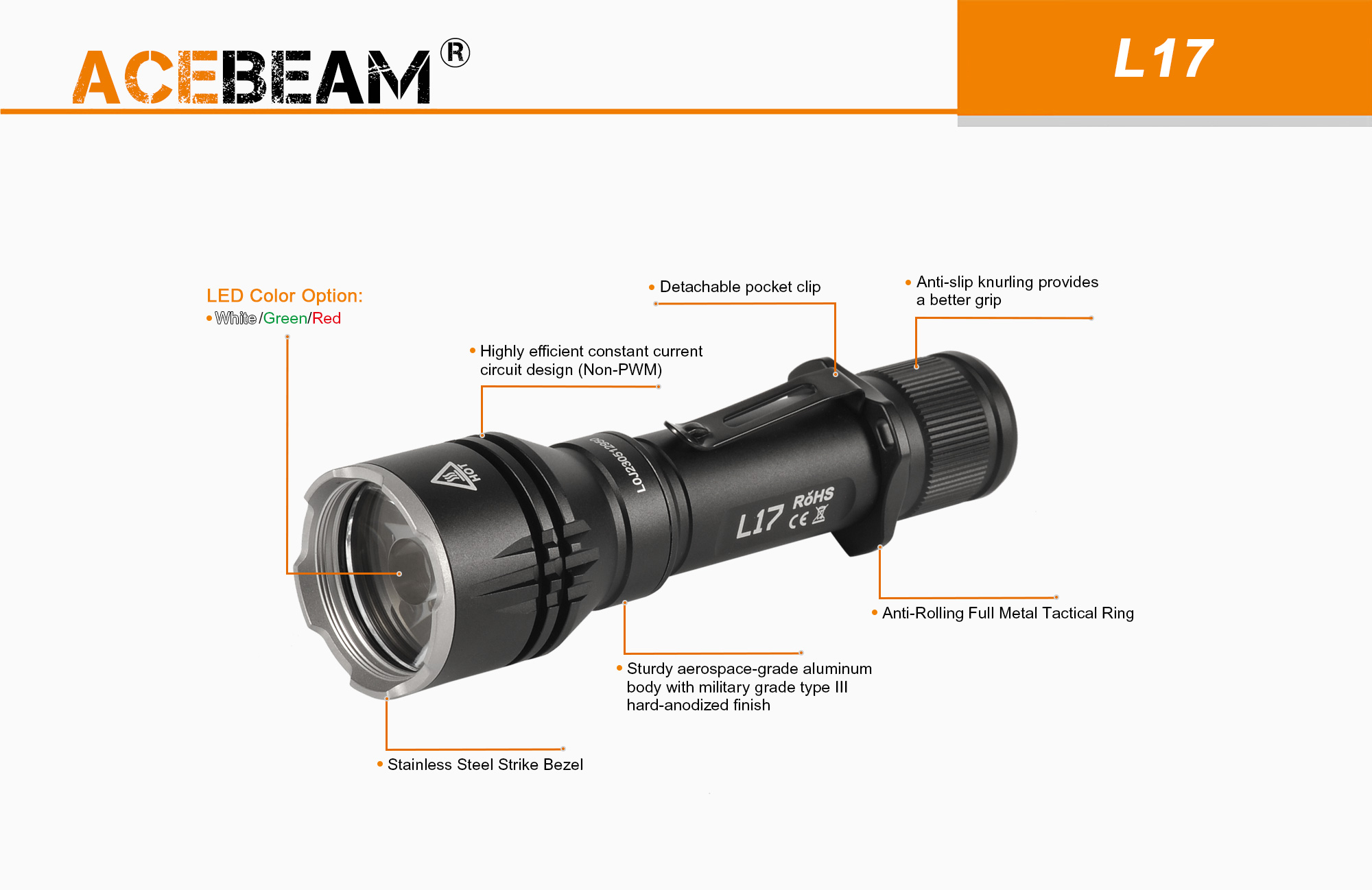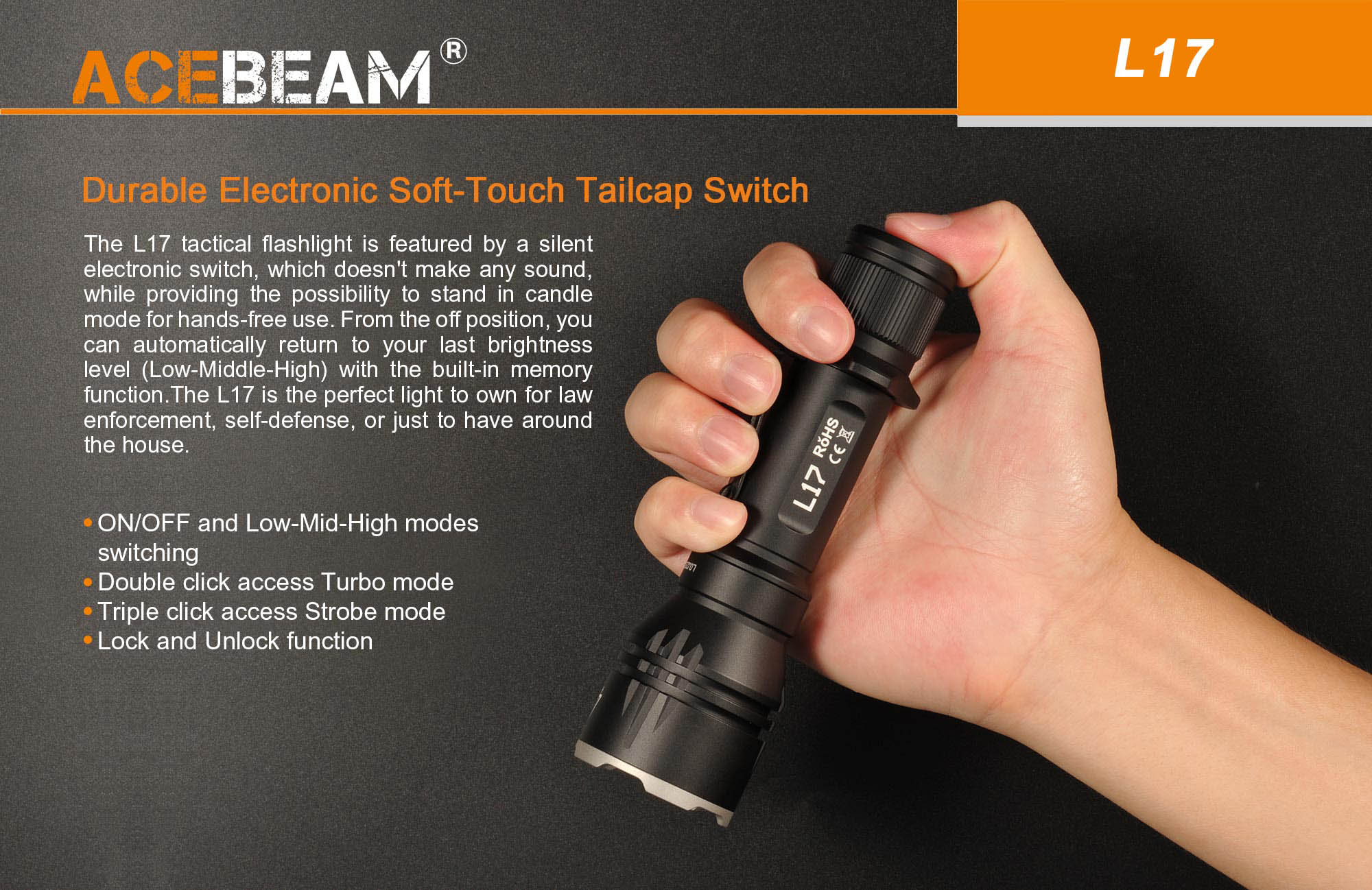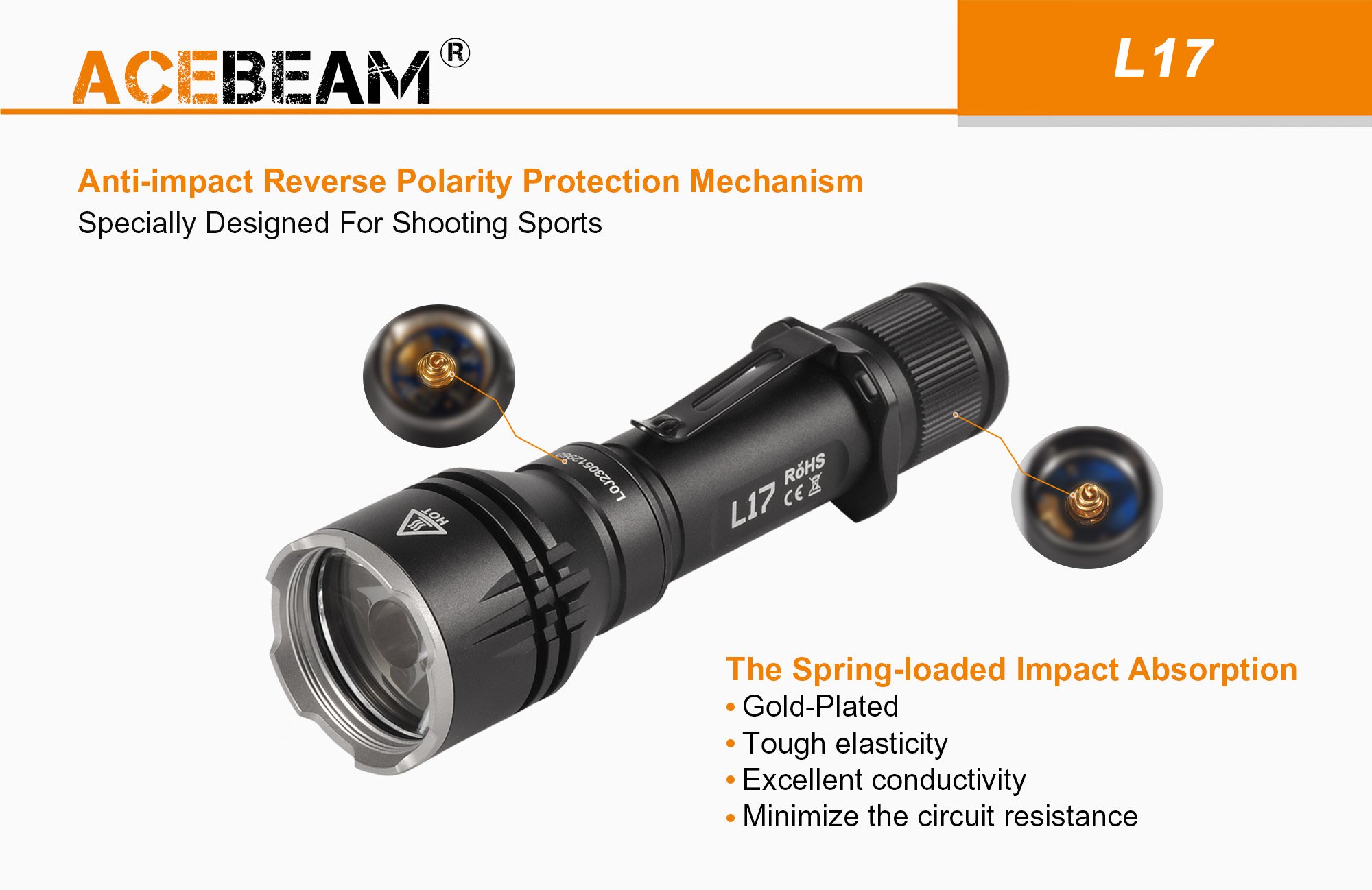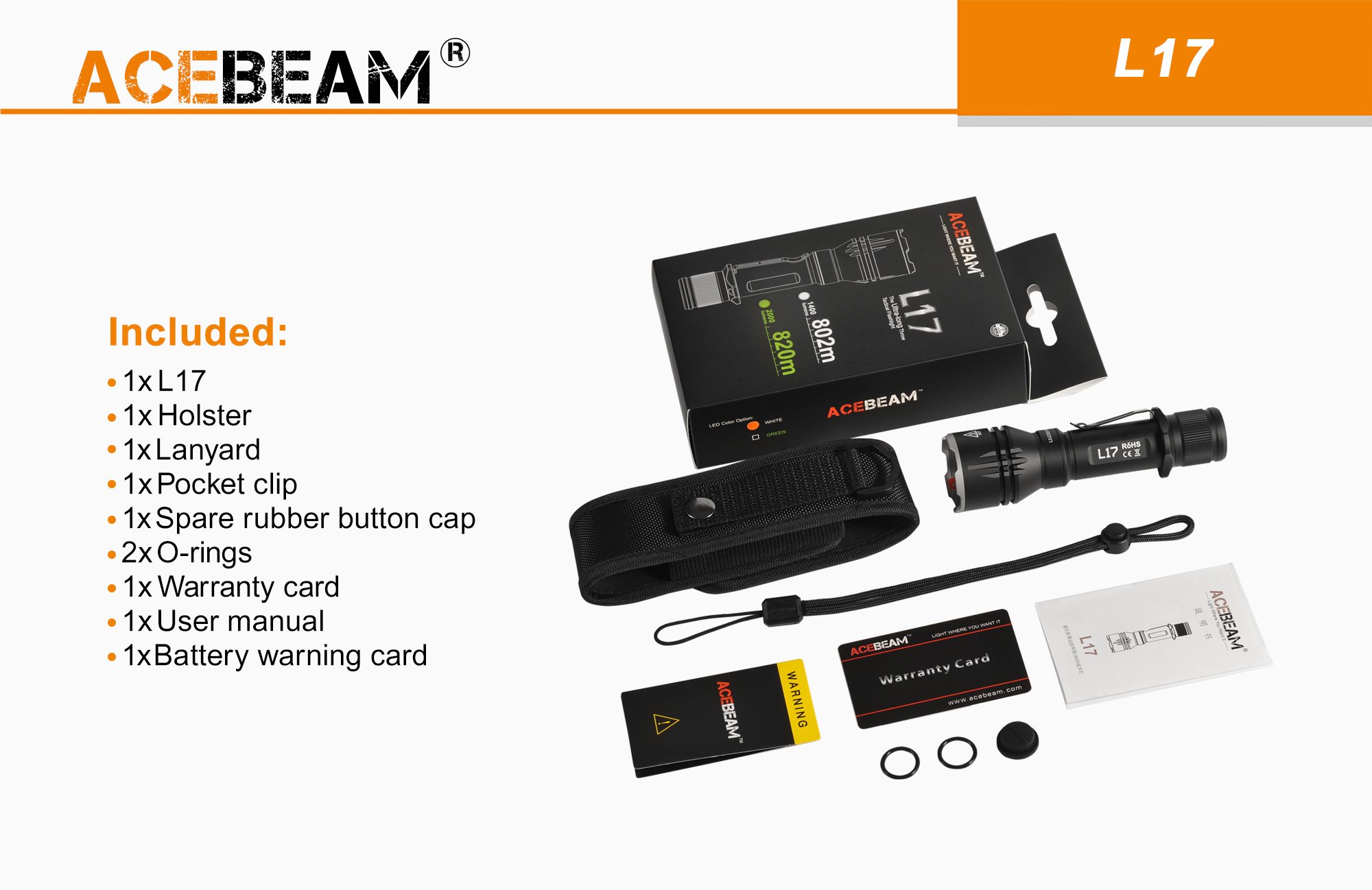 Take note our listing includes an Acebeam 18650 3100mAh USB Rechargeable Battery